Many will never go on their dream holiday. They'll daydream, saying 'One day', but then they'll put it off for a time that may never come. Today, we're saying no to that sentiment and yes to putting our money where our mouth is. Perhaps you want to explore your own backyard or venture further abroad to soak in exotic destinations. The world is packed with stunning vistas, charming towns, and fascinating cultures just waiting to be discovered and enjoyed. So, where do you get started? From booking accommodation to sorting out your passport or visa, planning that dream holiday can be somewhat overwhelming – not to mention that thought that often creeps in when you're about to fall asleep at night: Have I forgotten something?
That's why we've created the ultimate step-by-step travel guide for planning your dream holiday end-to-end. Take a look at the topics below to get started!
1. Choose your dream destination
Ask your friends and family
When planning your vacation, the first step is to decide where you'd like to go and what you'd like to do. Are you looking to head overseas, or would you prefer to explore Australia? If you're unsure, asking family and friends is often a good place to start as they can provide recommendations based on their own experiences and what they think you'll enjoy. From these conversations, you may whittle down your list of potential destinations to your top five.
The most popular overseas travel destinations
If you are heading overseas, another way you can refine your list of potential destinations is to see where other Aussie travellers tend to frequent. According to the Australian Bureau of Statistics (ABS), the most popular destinations for Australian residents from April 2017-18 were New Zealand, Indonesia, United States of America, China, Thailand, Japan, Singapore, United Kingdom, India, and Vietnam. Overall, the highest percentage increases for short-term travellers were for Japan, India, and Vietnam, suggesting that these countries, in particular, were popular among Aussie travellers.
While these stats may give you an indication of where is popular with travellers, don't feel limited by these suggestions. You should always base your travel list on destinations and experiences that'll accommodate your bucket-list. Who knows; you may end up taking in the Northern Lights on the frosty edges of Iceland, or you may take in the grandeur of Uluru.
Your itinerary: What do you want to experience?
When you picture yourself on holiday, what do you envision? Do you see yourself stretching out under a shady palm tree as you doze to the sound of crashing waves? Or maybe your thirst for history will lead you down cobblestone streets paved with tales of the past? To help you narrow down your list of destinations, you'll have to weigh up whether or not the list offers the experiences on your bucket list.
Snow sports
If skiing or snowboarding is your thing, heading to a country that offers fresh powder and plenty of ski runs is usually a safe bet. New Zealand's South Island offers a vast range of skiing and snowboarding options. The Remarkables is home to great courses for beginners, and Coronet Peak is fantastic for intermediate to advanced skiers or snowboarders.
Japan is also home to great ski and snowboarding resorts, including the resort towns such as Hakuba and Niseko. Not only can you board or ski through some of the world's best passages, but you can soak your muscles after a long day out on the mountains in a Japanese spa bath (onsen).
Diving
Diving is another popular sport that can help you pinpoint your ideal travel destination. Australia boasts the beautiful Great Barrier Reef, while Indonesia has some of the world's best diving spots, with whale sharks, shipwrecks, manta rays and an array of unique sea life on display.
Sports
Are you an adrenaline junkie? New Zealand, and more specifically Queenstown, is often referred to as the adventure capital of the world, and with so many activities on offer, it's obvious why! From bungee jumping to jet boating, parasailing to cycling – there's everything for the budding daredevil.
History and culture
Plenty of historical charm makes Europe an ever-popular destination for Australians. The length of the flight is matched only by the long list of languages, and the diverse cultures and picturesque landscapes abound. Aussie favourites here are the United Kingdom, France, and Spain, but there is so much more to explore if you're up for a little travelling.
As for cultural meccas, Japan is a hot holiday destination thanks to its high-tech cities, enchanting culture, and the allure of the unknown. From powdered ski slopes to soaking in an onsen (thermal spring), lush forests and ancient temples – there truly is something for all types of travellers here. Keep an eye on flights as well, as you may be able to nab an ultra-cheap ticket.
Beaches
Keen to explore a tropical paradise? An island in Fiji could be just the ticket. If your budget is tight, but you'd still like to head overseas, Koh Samui, Ko Lanta, and Ko Chang in Thailand could also be a good bet. To learn more about those, check out our Thailand Map for Aussies. If you're planning a beach vacation in Australia, your choices are almost endless; Bay of Fires in Tasmania offers kilometres of powder-fine sand and clear waters, with the options of beachfront camping or luxurious eco-lodges. Noosa Heads also puts on a show, with beautiful beaches, trendy restaurant and shopping options on its famous Hastings Street, and an idyllic national park you can hike through when you're seeking shelter from the Queensland sun.
Food
Why don't you follow your appetite to a destination renowned for its delicious cuisine? Italy is one such favourite among Aussies, with its traditional Margherita pizzas (you won't find pineapple on any pizzas in Italy), al dente spaghetti, and all flavours of gelato on practically every street corner. Greece is another great destination that serves up its food with a view. Olive oil is like gold in this part of the world, and you'll find it hard to get up from your table after you've indulged in some dolma or gyros filled with fresh meat and tzatziki. The Greek Islands are also famed for their locally-caught seafood.
Eat until you're ready to siesta in Spain, with its cured meats, paella, bean stews, and the local favourite: empanada gallega – a savoury pie fit to bursting with minced pork and chorizo, or seafood and capsicum with slow-cooked onion sauce. These are just some of the examples of great food our world has to offer. No matter where you go, though, your taste buds are bound to go wild.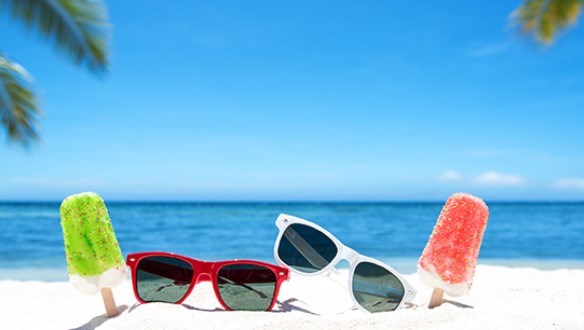 2. Do your research
When will you be going?
The hemisphere and climate of your destinations will likely have a profound impact on your holiday plans. Some countries may experience extreme weather at different times of the year, from frigid or stifling temperatures to typhoons and cyclones. Getting caught out can be disastrous, so a little forethought and careful planning go a long way.
If you're looking to ski, Japan usually showcases some of the best snow in the world from December to April. During this time, Japan transforms into a veritable wonderland. At the end of March, though, the rainy conditions can make for slushy snow. As such, it's best to leave the ski resorts and head to the southern parts of the country, where cherry blossoms burst to life. New Zealand also offers some great snowboarding and skiing opportunities from June to September. If you'd like to avoid crowds from other tourists and the country's September school holidays, there may still be enough snow to enjoy in October.
For something a little warmer, Hawaii, Fiji, and Indonesia are wonderful destinations to enjoy. The glistening white sand and turquoise waters have a certain appeal, but it's still important to do your research as these places often have wet and dry seasons to be aware of. Another consideration is if the countries on your shortlist have any specific festivals or events you'd like to see on your travels.
How much time do you have?
Your length of stay will likely have a large impact on where you go. Maybe you can take a holiday whenever you please, or maybe your annual leave and other commitments have you limited to certain timeframes throughout the year? If you're looking for a week-long trip, far-flung places in Europe are likely to be off the cards due to cost and flight duration. However, if you're heading away for three weeks or more, travelling in selected European countries or parts of North America could be an ideal vacation.
Bali is becoming an ever-popular destination for a long weekend. The dollar goes a long way, so costs can be kept to a minimum and flights are relatively short. However, you could just as easily stay longer, visiting other parts of Indonesia. Be mindful that crossing multiple time zones often requires a little downtime to adjust. Take the below as a guide for the approximate flight times from Sydney to popular destinations around the globe.
If you're planning to drive through Australia, try out our fuel comparison tool to ensure you're stopping at cost-effective service stations.
Travelling solo, couple, group, or with the family
There are different things to consider depending on whether you're flying solo, with another person, or with a group of family or friends.
Solo travel
Solo travel can be exhilarating, as you have the freedom to do as you choose, without having to worry about others in the group. You're able to rest when you want, visit the landmarks that pique your interest the most, and you're able to change your plans without consultation. Of course, there can be some downsides to going it alone. Depending on your personality, you may feel lonely at times, you don't have an extra set of eyes on the bags, and you can't split the bill over accommodation. If you're flying solo for the first time, you may find that an organised tour is a great way to relax and meet people, while still feeling like you're getting out on your own.
Couple
Travelling with a partner or close friend can be a blast, especially if you have similar interests. You've got a buddy there to share the laughs, holiday planning, and the cash flow. To help ensure you're both able to experience what you'd like and that you both have the same expectations for the trip, it's handy to map out your itinerary together before you leave home. Don't make your itinerary so strict that you can't bend plans if you stumble upon a best-kept secret; instead, use it as a form of structure for your holiday and a decision-maker when you both can't agree on where to eat.
Group travel
This can mean travelling in a group of friends or as part of an organised tour. Either way, it's likely that your travels will be much more structured if you travel with a larger group of people. It's certainly more difficult to make bookings and find vacancies for large groups on short notice, especially when it comes to booking accommodation, flights, or activities. As such, be sure to plan well in advance, so everyone is happy with the planned itinerary. The larger the group, the more restricted you're likely to be on how long you can go and when you can go.
Family adventures
Travelling as a family is an excellent way to bond by sharing experiences together. It's amazing to see children take in new parts of the world with open wonder. On the flipside, arguing kids can be hard to deal with if you're spending your hard-earned savings on an annual trip. It can be normal to plan extensively when travelling with little ones; and if you're going on a long-haul flight, their routine will be disrupted.
Travel carriers are helpful when little legs become tired, and a muslin cloth draped over a stroller can help block out sunshine so they can take their nap. An abundance of healthy snacks and bottled water is helpful in keeping hunger at bay during sightseeing. It pays to be organised when travelling as a family, particularly when there are young children in tow.
Your destination's political and civil climate
Aside from researching your destination's weather conditions and how the crowds will be during certain times of the year, it's also important to research your holiday's political and civil climate. Smartraveller.gov.au provides travel warnings and advice to those planning on visiting other countries. Operated by the Department of Foreign Affairs and Trade (DFAT), this is a powerful tool that offers advice on the local laws, safety, security threats, and natural disasters. It also highlights any areas that are deemed unsafe to travel to.
It also provides tips in remaining safe in your place of travel, including advice on how you may avoid scams, and where you could receive medical attention if needed. Before booking your flights or accommodation, be sure to stay across the news so you're well aware of what's going on in your destination.
3. Check your passport and visa requirements
Your passport
If you're heading overseas, you won't get very far if you don't have a valid passport. As such, give yourself plenty of time to arrange your passport application or renewal. According to DFAT, you need to give yourself at least three weeks to receive a new passport. The more time you put aside for this process, however, the better. Also be aware that if your passport's pages are nearly or completely filled with stamps, you'll need to obtain a new one – even if it's still valid for a few more years. Some countries require travellers' passports to have at least six months' validity beyond their planned visit. If your passport doesn't, you could be refused entry.
Your visa
If you're unsure if you require a visa, head over to Smartraveller.com.au. This government-run website can provide advice on whether or not you may need a visa. It's important to take the information from Smartraveller as advice only, however, as it's subject to change and may not cover your destination's every travel consideration.
Check your destination's embassy or consulate to be aware of any visa requirements, travel restrictions, or banned items. For instance, some countries will require you to have a visa before you travel, whereas others may allow you to apply for a visa upon arrival.
4. Protect your holiday
Take out travel insurance
Travel insurance may seem like an unnecessary expense, but it's one that could save you from enormous out-of-pocket expenses if your flight is cancelled, your belongings and personal effects are stolen, or if you were to fall ill and require medical attention.
If you're planning on going on a cruise, even if it's travelling around Australia, it's essential that you consider taking out cruise cover as an extra feature on your policy or as separate cover. Most cruise companies that operate ships in Australian waters recommend that their passengers purchase international travel insurance to ensure they have sufficient cover for any medical expenses they may incur – even if their cruise itinerary doesn't include visits to international ports.
Any skiing or snowboarding must also be covered in your policy. As some policies don't automatically cover winter sports, you may need to take this out as an add-on option to your policy if possible, or as an individual policy. Those travelling throughout Australia can take out domestic travel insurance for protection against a range of events that can turn a holiday sour, like cancelled flights, theft, and car hire excess. For further information on which type of travel insurance could suit your needs, take a look at our travel insurance page. No matter the type of holiday you're about to embark on, it's vital you talk to your insurer and carefully check your policy's Product Disclosure Statement (PDS) to be aware of any cover limitations or exclusions.
Register your travel
Once you've worked out where you want to go and what you want to do, be sure to register your travel plans with the Department of Foreign Affairs and Trade (DFAT). By registering, DFAT may provide you with any updates that are relevant to your travel, and they may contact you or your family in the event of an emergency.
Photocopy your travel documents
Make copies of your travel documents as well as your itinerary, and hand these to a trusted family member or friend. Also make sure you pass along up-to-date contact details to your family and friends, as well as the best way for them to get in touch with you while you're away, whether you're staying overseas or in Australia.
5. Book flights and accommodation
Find great-value flights
Grabbing the best flight deal can be stressful, as it can be hard to know if you've found the best deal, or if a better price is just around the corner. It's often considerably cheaper to fly mid-week than on the weekend. Furthermore, early or late flights may prove better for your hip pocket, and you may experience fewer delays. Google Flights is a particularly handy tool where you can search multiple destinations over a large area to see which airline is offering the best value. You may hit the jackpot, discover a new destination, or create a shortlist from your results.
Hopper is another app that allows you to compare current flight prices from some airlines to historical data so you can judge if tickets are likely to become cheaper. You can also set up alerts, so Hopper will let you know if there's a great deal. Unfortunately, the app doesn't compare some of the budget airlines at the moment, so you may have to check those out separately. TIP: Some airlines have special sales on their websites, so it's a good idea to check their site too.
Some of Australia's cheaper airlines offer 'take a friend for free' or 'get your return fare free' deals only a few times throughout the year, and they sell out fast. The airlines often put deals on social media and in their newsletters, so be sure to sign up to their alerts, so you have a greater chance of snapping up a deal. When these offers do come along, there's little time to procrastinate, as they could be gone before you know it